A Bozeman, MT Preschool for Creative Learning and Development.
About our program
At Creative Arts Preschool, we offer a distinctive educational setting for children ranging from almost 3 to 5. Our daily 3 to 6-hour program introduces children to a rich variety of creative art forms. This immersive experience not only nurtures their confidence but also fosters early math skills, encourages creative thinking, and enhances their understanding of the world. Our preschoolers engage in daily nature walks along the neighboring trail system, allowing them to observe and embrace the wonders of their natural surroundings.
Since its establishment in 2008, Creative Arts Preschool has served as a haven for children with a passion for music, dance, creativity and nature. Our program accommodates a daily enrollment of up to twenty children, offering a unique blend of one specialty activity each day, such as music, soccer, yoga, Jazzercise, and dance all seamlessly integrated with art and nature exploration within a traditional preschool setting. As they graduate from our program, our students are well-prepared for Kindergarten, brimming with enthusiasm and an inquisitive approach to learning. Parents can choose from two to five days of schooling during the academic year, spanning September through May, or opt for our engaging weekly summer art camp in June, July and August.
About the Director
Erin Hansard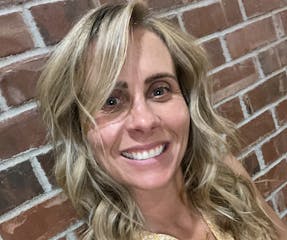 Erin Hansard drew on her Elementary Education experience to start Creative Arts over 10 years ago. Her inspiration was driven by a desire to introduce her own daughters to the delight of learning while nurturing a sense of wonder for the beautiful environment we call home.
Continuously evolving, Erin enriches our curriculum by inviting new artists and tailoring lessons to align with her students' interests. She imparts a diverse range of skills, encompassing reading readiness, mathematics, and science, all underpinned by an educational approach that harnesses the power of the arts. Songs, dance and stories are seamlessly woven into our curriculum. Witnessing the infectious enthusiasm that the preschoolers show when discovering something new is what Erin treasures most.
Bozeman Dance Academy
Check out our sister company Bozeman Dance Academy
Special Daily Activities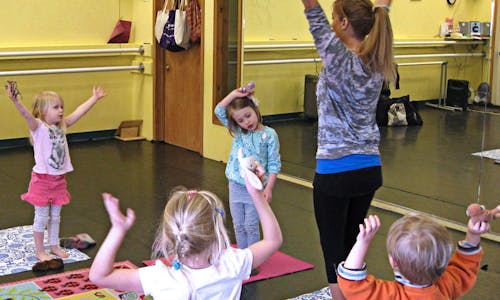 Music & Yoga
Miss Erin uses music, dancing and stories to compliment our weekly preschool themes. . The children use creative movement, scarves, rhymes and rhythm instruments to round out their musical experience. On Yoga days she adds in even more creative movement and stretching.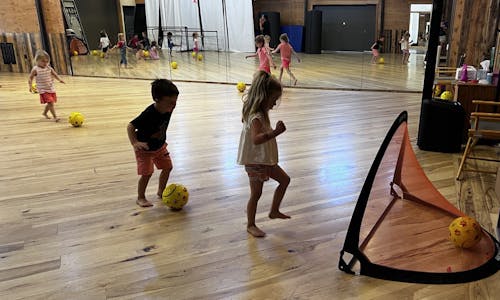 Soccer
HappyFeet Soccer is an exciting preschool fitness program that uses songs, stories, nursery rhymes and fun games to introduce soccer! Our preschoolers use their imaginations to take their soccer ball on adventures. Familiar songs are used to make learning soccer skills an enjoyable experience that they look forward to each week!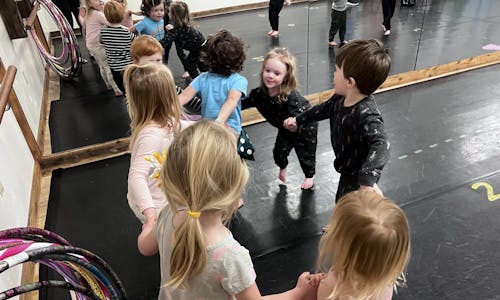 Jazzercise
Miss Sarah's classes have our preschoolers working out with new music mixes, choreography and fitness games created just for them. She breaks down the steps and adds games and activities. It's all about fitness, coordination, strength, nutrition, confidence and they love showing off their dance moves!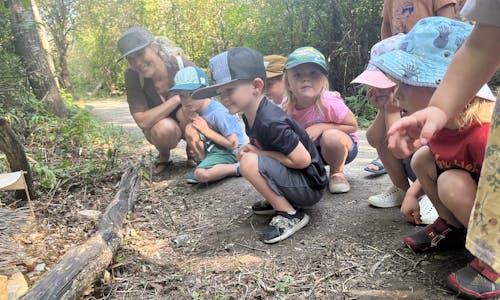 Nature Exploration
We take full advantage of our location to explore the nature trails surrounding our school. Our preschoolers are blown away as they observe the change that comes with each new season.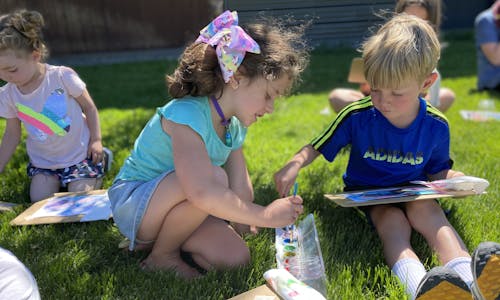 Summer Art and Nature Camp
All summer long, we get outside to enjoy our beautiful Montana surroundings and create art projects that focus on all the natural beauty we see each day!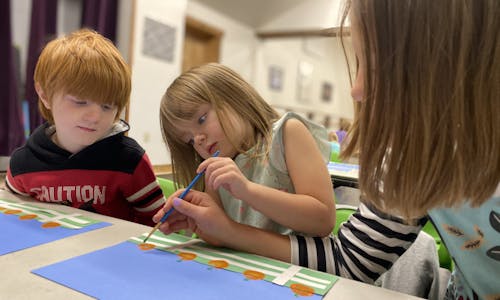 Art
Each day we get creative while we learn! Our preschoolers love the imaginative masterpieces they make each day. They get a chance to explore painting, drawing, beading, working with clay and incorporating the things we find outside along our trails!
2023 Summer Program Schedule
| Session | Activity | Date |
| --- | --- | --- |
| Session 1 | Montana Flowers and Plants | June 19-23 |
| Session 2 | Exploring Art Styles | June 26-30 |
| | No School | July 3-7 |
| Session 3 | Mountains | July 10-14 |
| Session 4 | Birds of Montana | July 17-21 |
| Session 5 | Fish of Montana | July 24-28 |
| Session 6 | Artist Studies | July 31-Aug 4 |
| Session 7 | Animals of Montana | August 7-11 |
| Session 8 | Water | August 14-18 |
Daily Preschool Schedule
Daily Schedule: Half Day 9-12, Full Day 9-3
Time
Activity

8:45

Student drop off: Playtime

9:45

Cleanup & bathroom break

10:00

Snack

10:30

Circle time & Story; Themed Art Project

11:15

Outside Playtime or Nature Walk

12:00

Half Day Pick Up

12:15

Lunch

12:30

Quiet Rest Time

1:00

Pre-K/Academic Practice & Learning Centers

1:30

Outside Playtime

2:00

Rotating Specialists:

Monday-Music
Tuesday-Yoga
Wednesday-Soccer
Thursday- Jazzercise
Friday-Nature Exploration

2:45

Daily Review & clean Up

3:00

Full Day Pick Up
Holiday Break Schedule
Fall & Spring 2023-2024
| Holiday | Date Range |
| --- | --- |
| School Starts | August 29 |
| Labor Day | September 4 |
| Thanksgiving | November 22-24 |
| Winter Break | Dec. 22- Jan. 2 |
| President's Day | February 19 |
| Spring Break | March 11-15 |
| Memorial Weekend | May 24-27 |
| Last Day | Thursday, June 6 |
| April Break | April 25,26 |